What is the Best Treatment to Thicken up Thinning Male Hair?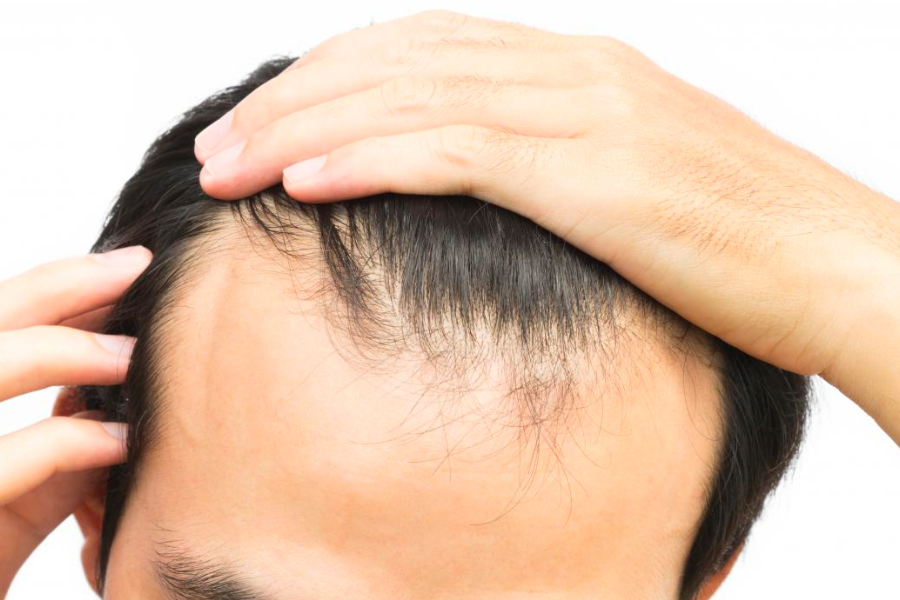 Hair loss and thinning is prevalent among men, with millions of males experiencing it at some point in life. Hair thinning might involve receding hairline or developing bald spots on top of your head.
If you happen to suffer from this, you don't have to worry. There are genuine solutions to thickening up your hair and regaining your confidence.
What are the causes of thinning hair?
There are various reasons for thinning of hair. These include;
Emotional and other kinds of stress can cause havoc on your body. A stressed body tends to produce more hormones, affecting hair follicles on the scalp.
The nutrition you take affects your body functions and even hair loss. Restrictive diets like keto, carnivore, or paleo deprive the body of certain nutrients found in other groups of foods. You need protein, Omega 3, and vitamin A & D for a healthy scalp and hair.
Male pattern balding plays a big role in the type of balding you may experience. If male baldness runs in your family, you are more likely to suffer a similar fate.
What are the symptoms of thinning hair?
Understanding whether you have thinning hair or normal hair loss is never straightforward.  Thinning hair is more than just thinning crowns and bald patches on the head. For assurance, you need to monitor how much and how quickly you lose hair.
Some leading symptoms of thinning hair include patchy bald spots, scaling across the scalp, hair loss on general body parts, and sudden hair loss.
There are times when gradual hair loss can go unnoticed, and that's where your attention to detail comes in. The earlier you spot the thinning hair, the easier it is to intervene with the right remedies.
Remedies for hair thinning
Here are some of the leading treatment options to thicken up thinning male hair.
Nioxin System 2 treatment
Nioxin System 2 treatment is one of the leading hair thinning care options available in the market today. It is specially developed with minoxidil, a scientifically proven ingredient that reduces the effects of thinning hair. It's also ideal for refreshing the scalp and increasing hair volume.
The Nioxin System 2 is the last step in a three-part hair treatment procedure. It protects against hair breakage while amplifying hair texture. The hair treatment option also contains Nicontintate, which helps in amplifying hair texture.
Using the Nioxin system 2 scalp and hair treatment is quite simple. You apply the treatment to damp hair and distribute it evenly on the scalp. Leave the treatment in the hair, then style as usual. Use daily for maximum results.
Another way to grow and maintain healthy hair is to use the Watermans elixir. The scalp treatment contains growth-stimulating ingredients like biotin for healthier and gorgeous hair.
The hair growth serum is popular among male users, with most approving of its magical results. The leave-on treatment is a vegan-friendly formulation that contains keratin responsible for healthier hair. It also has rosemary extracts with some top natural hair loss treatment capabilities. Allantoin is another of its aspects that help in treating or preventing a dry and itchy scalp.
Apply the Watermans hair serum at night for best results. Use the directional nozzle to apply the Watermans Elixir directly onto the scalp, then massage for a minute. Apply once daily.
The crew scalp treatment is a specially designed leave-in formula ideal for invigorating the scalp and thickening hair. It helps strengthen the hair while making it visibly healthier.
The crew scalp treatment is made with amino acids with restoring agents like lipids and sulphur essential for hair structure. Moreover, it comes with nourishing vitamins with strong soothing and strengthening properties. The vitamin also penetrates the hair fiber to protect it from internal damage.
Another active ingredient of the crew scalp treatment is butylene glycol which draws moisture from the surrounding hair to create stronger and healthier hair.
Bottom Line
If thinning hair is something you have been struggling with, you need to worry no more. Look for the above top solutions to help get your hair back to its healthy and full state.
Ready to find your thinning hair solutions? Browse through our catalogue for the best quality crew scalp treatment, Watermans elixir, and Nioxin system 2 treatment options.