7 Signs To Visit An Eye Doctor In Singapore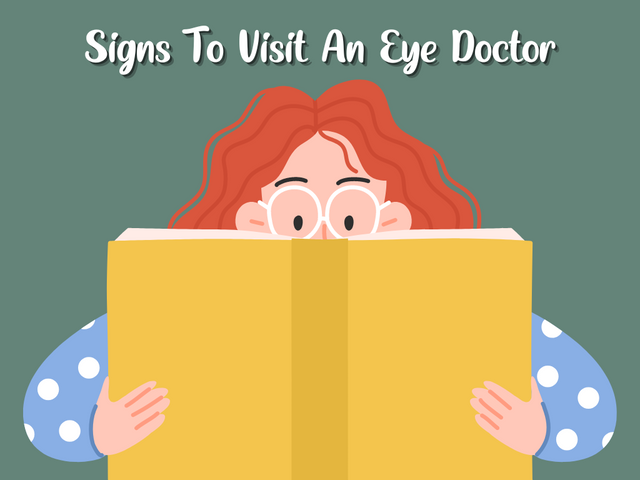 Your eyes are one of the things you need to take care of in your body because they will see the beautiful things you will encounter in life. If you want to go somewhere, you will see how welcoming the spot is and the activities you can do there. If you are into nature, you will know its beauty and offers. However, if your eyesight is not taken care of properly, you could experience problems that could worsen if not treated immediately. Search for an eye specialist or clinic in Singapore to know more about your eyesight and the steps you need to follow to cure it.
SIGNS THAT YOU NEED TO VISIT AN EYE DOCTOR IN SINGAPORE
Many people visit a specialist to check their health. They will know about their weight, blood pressure, and other matters that concern their overall health. But, you should also never ignore having your eyes checked. Some forget the eyes because they focus on different body parts. You will encounter various signs to visit an eye doctor in Singapore, and here are some of them:
1. YOUR EYESIGHT IS BLURRY
You will encounter many signs to visit an eye doctor, and this one is the most common. If you notice that your eyesight is already getting blurry and you have problems recognising the things in your surroundings, search for a clinic where you can have your eyes checked. They can help you know what is happening to your eyes, why it is blurry, and the actions you can accomplish to prevent it from worsening.
2. YOUR EYES ALWAYS FEEL PAIN
The eyes can also sense pain, especially if you are tired. You might feel that your eyes are heavy and want to close anytime. The skin on your eyes might also sting, especially if there is sweat on your face. If this happens, you might think you have an allergic reaction or scratched the part. But if it persists, do not hesitate to visit your doctor to check your eyes. Do not ignore any pain you will encounter, even if it is just outside.
3. YOUR EYES ARE ITCHY
Eyes become itchy for many reasons. It could be because your eyes are having allergic reactions or it is getting dry. Some people also experience infection, and itchiness is just a sign. So if you encounter this issue, search for an eye clinic in Singapore near your home and contact them for an appointment. To avoid the triggers of your eyes getting itchy, ensure to fix your hair and do not let them touch the sensitive parts of your eyes. If you start scratching, it might worsen the condition.
4. YOUR EYES ALWAYS WATER
Eyes can also water because of many reasons. You will notice it because of the bright light or if you are sick. If you have a fever, your eyes become sensitive and make your eyes water. Even if you are not crying, some people might think that you are, and they might talk to you about it. If you yawn, you could also experience this. If you have this eye issue, do not worsen the situation by using a clean handkerchief or tissue to clean your eyes. But it is better to have your eyes checked by a professional to know how to stop the watering.
5. YOUR EYES ARE TURNING RED
Call an eye doctor in Singapore if your eyes are already turning red. Many factors could cause this, like having dry eyes and allergies. People who wear contact lenses can also have this problem, especially if they do not attend to their eyes. Ensure that you know how to put your contact lenses and remove them correctly to avoid having this issue. Many people use their fingers to place and remove one but wash your hands before doing it.
6. YOUR EYES BECOME MORE SENSITIVE
The eyes can become sensitive if it is already experiencing problems. If your eyes are dry or watery, it is also a sign that you are susceptible to changes. The weather could be a factor, so know when your eyes are dry or wet. People who use unsafe eyeglasses can become sensitive to their sight. So before wearing or using something, check with your doctor first to see what you should and should not do.
7. YOUR EYES ALWAYS FEEL TIRED
Your body can get tired after a long tiring day. And it could also happen to your eyes. If they already feel tired, the idea that will come to your mind is to sleep. But sometimes, sleeping is not an option, even if your eyes feel heavy. You will have difficulty going to bed if you are not sleepy yet. Before visiting an eye doctor, you should know your limitations on things that could affect your eyesight. Some examples are staring at your phone screen for hours or setting its brightness to max.
Even if you do not encounter issues with your eyes or eyesight, booking an appointment with an eye specialist in Singapore is necessary. If there is a risk to your eyes, you will know about it early and get appropriate treatment. If you feel any of these signs, never ignore them and visit a hospital or clinic to check your eyes. You can prevent a severe eye condition if you get immediate action for your sight.
QUESTIONS YOU SHOULD ASK AN EYE DOCTOR
Now that you know the signs of visiting an eye doctor in Singapore, you should also be ready about the questions you will ask them. It could be your way to check your eyes and ensure they are safe from any problems. If you do not know how to start a conversation, here are some of the questions you might ask:
What is happening to my eyes?
Do I need to undergo any procedure?
Do I need to wear eyeglasses now?
When should I come back for another check-up?
Am I going to take medicine?
Are eyeglasses better than contact lenses?
These questions can give you a clearer view of your condition and what you should do to treat them. Ensure you know what you can and cannot do to avoid worsening your condition. If you need an eye specialist in Singapore, visit the website of Nova Eye Centre.