Information on Isolation Gowns and Standards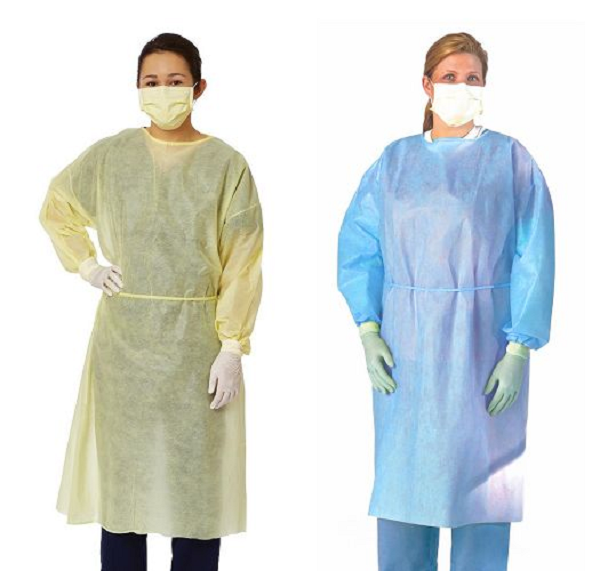 Isolation gowns that are non-surgical are considered Class I devices meaning exempt from premarket review. They are intended to protect the person wearing one from the transfer of microorganisms and fluids from the body in low or minimal risk in those situations where patients are isolated such as those sick with Covid-19. These gowns are not for wearing during:
Surgical procedures
Procedures that are invasive
Situations when there is medium to high risk of contamination
Coverage
Like isolation gowns for surgery, non-surgical isolation gown should cover as much of the body as is needed for the task. All areas of the non-surgical isolation gown except cuffs, bindings, and hems are considered to be critical zones for protection and have to meet the very highest level of liquid barrier protection for which the isolation gown is rated. All seams need to have the same protection of liquid barrier as the rest of this gown.
Labeling
Labeling that shows on these gowns need to show how the product was tested and must meet appropriate standards of performance is one way that users as well as procurers have to determine when to use a particular isolation gown.
Consensus standards
The performance of these isolation gowns needs to show the following standards:
Method of sterilization that was used.
Describe the method that validates the sterilization cycle, but not the validation data itself.
Reference to a standard method used to establish FDA-recognized standards.
Sterility assurance level for which this gown is intended to be met.
Description of packaging to maintain the device's sterility.
If radiation sterilized, the radiation dose.
Standards of contact with skin
These types of isolation gowns are considered to be able to have contact with intact skin for up to 24 hours. There are FDA recommendations that must be evaluated and met in this area.