Maskwise launches new antimicrobial face mask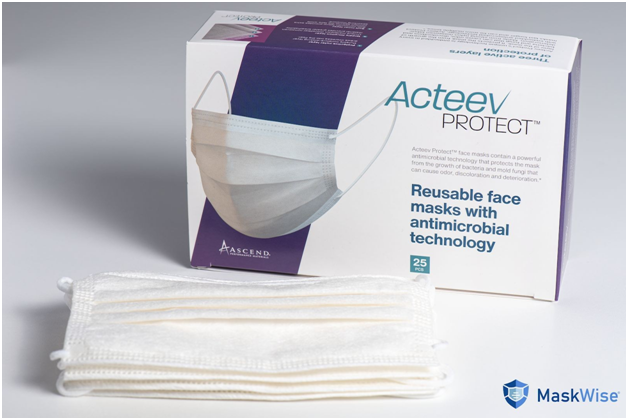 Maskwise, the California-based online retailer of face marks and PPE, has launched a new product that is sure to turn heads and grab attention across the country. Their new Acteev Anti-microbial Face Mask uses a patent-pending, FDA approved ion polymer incorporated directly into the fabrics they use. Not a spray, not a coating, can't flake off, won't wash away. Wow!
This polymer layer uses its charge to defeat odor-causing bacteria and microbes, leaving your mask feeling fresh and smelling good all day long, no sweat! This is sure to cause ripples across the industry, as many first-time mask wearers are quickly growing tired of sweaty, saturated, or just plain stinky face masks due to the accumulation of moisture and heat.
Unlike other anti-microbial masks, Maskwise's Acteev antimicrobial masks do not use an applied coating. Sprays and coating are initially effective but diminish over time as they dry off and flake away into dust. After a day or you, the coating degrades and you're left with a regular mask but you've been charged a premium! Not fair.
Made from non-woven nylon fabric, Acteev Reusable Face Masks provide utmost protection. Using multi-layered technology like melt-blow, spun-bond fabrics allows Acteev Masks to couple filtration systems to maximize potential protection and benefit. Unlike surgical or cloth masks, Acteev Protect masks utilize patent-pending microfiber technology to prevent microbe growth and safeguard against 99% of bacteria. With three active layers of protection, you've got more than one layer protecting you from the elements.
Made in the USA, the masks are designed for optimal comfort and breathability, making them ideal for everyday wear. Maskwise also has a strong belief in the importance of environmental sustainability, which is why their masks are reusable, time, and time again.
Key Features of the Masks:
Made in the USA: Our masks are made right here in
Maximum Protection: Tests show that masks made with Acteev's patent-pending microfiber technology protects against 99% of
Made from PA66 (Polyamide 66): A durable, yet-soft Nylon Fabric that absorbs moisture and is mildew & odor resistant.
Enhanced Breathability: Active zinc ions in the fabric wick moisture away from the face for final comfort and breathability.
Comfortable on the Skin: Acteev Protect fabrics are Non-sensitizing and Non-irritating.
Safe and Sustainable: Our fabric doesn't wash away or flake off like other masks with topical treatments or
Maskwise has leveraged its industry connections and their established supply chain to bring you these antimicrobial face masks on scale at a speed and a price that you just can't beat.
Proudly based in the USA, Maskwise is committed to serving all of its customers and ships anti-microbial facemarks to schools, hospitals, government bodies, and private consumers as well.
Maskwise believes in safety first. It's better to have masks, and not need them than to need them, and not have them. They even offer exclusive discounts when you buy direct! Check them out at maskwise.com.
ABOUT THE COMPANY
MaskWise is a United States of America – based distributor of high quality face masks. We supply our products and PPE to colleges and universities, food and other industry manufacturers, restaurants and food service enterprises, and many other small and medium-size businesses across North America. In addition, we've recently decided to open our doors to direct to consumer sales through our new online storefront, in recognition of the current need for reliable, high-quality suppliers.
We work In a close partnership with California Plastics Be Human, an authorized distributor of Acteev Protect™ by Ascend Performance Materials. We have a strong, enthusiastic commitment to keeping our community safe and healthy.
Maskwise also has a strong commitment to giving back. In 2020, Maskwise donated over 20,000 face masks to charitable organizations on the front lines. These masks were distributed to areas across the United States that were experiencing shortages or limited stock of crucial PPE in the midst of the COVID 19 pandemic. We are proud to contribute a stronger, healthier America.