5 Conditions An Ear Nose Throat Specialist in Singapore Can Treat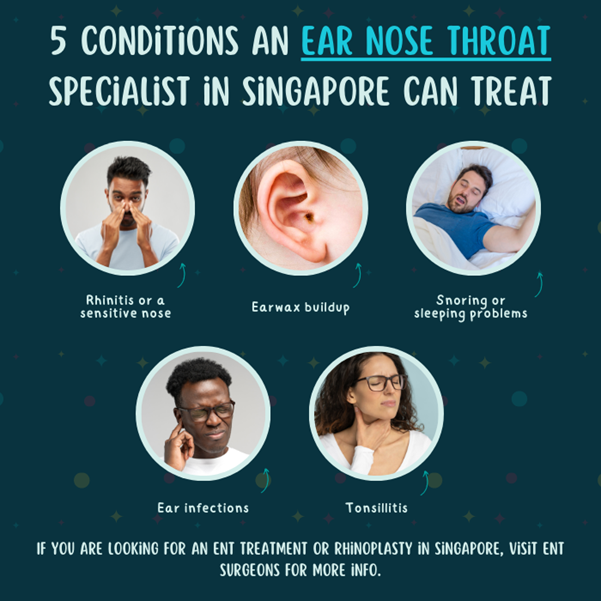 Otolaryngology is a medical speciality for treating and diagnosing ear, nose, and throat (ENT). Such doctors can also treat head and neck problems. They can also perform surgical care for a wide range of ENT conditions affecting children and adults. Visiting a nose, throat or ear specialist in Singapore is more important to maintaining a quality of life and better health.
ENT doctors are among the most significant medical professionals you can approach for your and your family's ENT health. From children to adults, anyone can experience chronic infections that can induce illness. Thus seeking an ENT clinic for treatment is a vital concern. Let's look at what conditions an ENT doctor can treat:
1. Rhinitis or a sensitive nose
Rhinitis, or sensitive nose, is a common inflammatory condition that occurs in the nasal cavity of our nose. The most common symptoms include runny nose, itchy eyes, blocked nose and frequent sneezing. Allergic triggers, such as dust mites and pollen can trigger rhinitis, thus visiting an ENT doctor in Mount Elizabeth or any local ENT facility near you can provide expert treatment.
2. Earwax buildup
Earwax can help your ear canal clean and provides a layer of protection against foreign objects, such as tiny insects and even infection. However, excessive earwax buildup can also cause harm and affect our hearing. One common symptom of excessive earwax buildup is the gradual decrease in hearing level. Removal of earwax can provide immediate treatment.
3. Snoring or sleeping problems
Are you experiencing sleep apnea or snoring problems? Such conditions are more than just a cause for sleep disturbances. Snoring and sleep apnea can prevent you from achieving a good night's sleep and weaken your body in the long run. Without proper sleep, our body lacks the energy it needs to function, which prevents the regeneration of cells. Thus if you're experiencing sleep apnea or a snoring problem, a local ENT specialist can provide a snoring treatment in Singapore.
4. Ear infections
Ear infections are common, especially among children. While they are less 'serious', they can cause inflammation and pain in the ear canal that causes discharge and sometimes affect hearing. Otitis externa and Otitis media are a few examples of ear infections that are common. Visiting a local ear specialist can offer a solution to treat and prevent ear infections.
5. Tonsillitis
Tonsillitis is an infection occurring in the tonsils (a lump of tissues located at the back of your throat). Tonsils are prone to infection that can make you sick. They are also recurrent. Thus seeing an ENT specialist can reduce the frequency of getting tonsil infections.
If you are looking for an ENT treatment or rhinoplasty in Singapore, visit ENT Surgeons for more info.