Where To Buy Rain Eye Drops? Full Guide: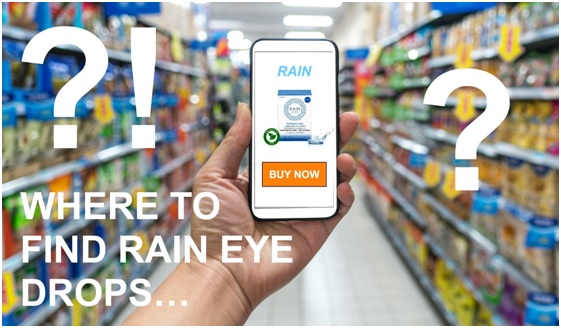 If you've been searching everywhere for the best eye drops for dry eyes then chances are you've heard about Rain Eye Drops. Unlike most eye drops on the market today Rain Eye Drops are 100% preservative free and avoid putting other bad things in their formula. They are also designed specifically for dry eyes and severe dry eyes. This has led Rain drops to be in high demand, especially during the summer months of record heat. In this guide we will explain why they are in such demand and where to purchase Rain Eye Drops. 
Besides their health conscious mission, their eye drops also work amazingly well. This has helped gain Rain Eye Drops countless 5 star reviews online from people who have finally found relief by switching to their clean formula. It works. Now the question is, where to buy Rain Eye Drops so you can get your hands on this relief too?
About Rain Eye Drops
Before answering this question, you need to understand a little more about Rain Eye Drops and what makes their company truly unique among the big pharmaceutical giants of the industry. The eye drop market is a billion dollar industry with firmly established players cornering the market in drug stores worldwide. This is why most eye drops are basically the same. They are usually loaded with preservatives and other chemicals to make the manufacturing easier and to give them a longer shelf life. That's where Rain comes in and is starting to disrupt the industry. 
The founders of Rain Eye Drops were tired of the side effects and ineffectiveness caused by many of the other big brand eye drops. They saw the need for a better eye drop and a better company. A company that cares about what goes into your eyes. However, the big eye drop companies have a firm grip on drug stores and what they will carry. The last thing they want is to compete with a company like Rain Eye Drops. Luckily Rain found a way around this monopoly by cutting out retail stores altogether and selling directly to YOU, the consumer. 
This explains why Rain Eye Drops are only available online. By avoiding retail markups and other constraints, Rain can sell their eye drops directly to those who need it at the best possible price. Based on their current prices and free rush shipping, it's safe to say that Rain is definitely passing this added convenience and savings onto their happy customers. 
With a product that really works, great pricing, and maximum convenience it is easy to see why so many people are switching to Rain Eye Drops and taking better care of their eyes. It's the smart consumer choice and from a health standpoint almost every doctor would agree with switching to preservative free drops too. So the question remains, where can I buy Rain eye drops?
Rain Eye Drops In Stores?
Buying Rain Eye Drops is actually super easy. If you go to the company website TryRain.com they have the best prices available anywhere. They have a secure online checkout to purchase the quantity of drops that you need. Every order comes with free rush shipping to your door. Some customers say the drops have arrived in less than 48 hours after placing their order. That's fast! You won't get this kind of savings or convenience by shopping at the local drug store. 
If you have severe dry eye or use eye drops daily, then why not stock up and get even more savings? Rain allows you to stock up on drops so you never have to worry about running out. If you ever run low then you can reorder online or call them if you prefer. Many reviews online about Rain talk about their great customer service so if you have a problem just reach out to them.
Buying Rain Eye Drops online instead of big brand eye drops with preservatives not only saves your eyes but also your wallet a lot of pain. Based on price comparisons we did, the average consumer stands to save about $200 a year on eye drops alone. Rain also sells other vision health products to help with your eye health such as Rain Eye Gummy Vitamins. If you factor in these different products added together with an online order then your savings can be significant.
Rain Eye Drops Near You
If you are still looking for Rain Eye Drops near you don't worry, they ship nationwide with free rush shipping. So if you want to know where you can purchase Rain Eye Drops the answer is: EVERYWHERE! Just visit their website to place your order today and start getting dry eye relief delivered to your door for free. 
Here is where you can reliably find and purchase Rain Eye Drops on their official website: https://tryrain.com/shop